Use the Add Movies screen to add your multi-movie box sets to your collection. All movies in your box set get 1 separate entry in your database, linked together by a box set. See it in action:
Find and add box sets by barcode
In the Add Movies screen, on the barcode tab, scan or type in a box-set barcode. The result will show you which movies the box set contains.
Click Add to Collection at the bottom right and all contained movies will be added to your database, automatically linked by a box set entry.
Find and add box sets by title
Alternatively, use the Title tab and enable the new Box Set search (with the checkbox) to find box sets by their title.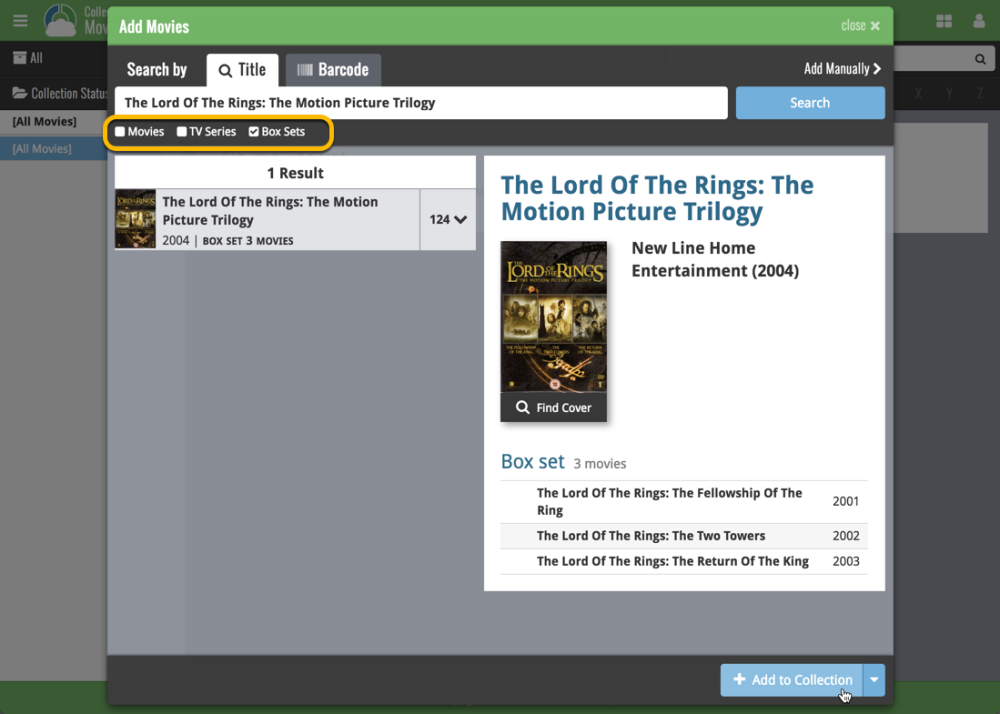 With your movies added and your box set created, you can see more information will be displayed in on the details page of that movie. You can also click a different movie from the same box set right there in the template to instantly find it in your database.
Adding an extra movie to an existing box set
If you want to include an extra movie into a box set you previously added, here's how:
Add the movie like you would normally using the add screen. Just as a loose separate movie.
Find the movie in your database and edit it.
Find the "Box set" field and use the dropdown to select which box set you want to include this movie with.
Remove a movie from an existing box set
Find and edit the movie in your database.
Find the "Box set" field and clear it.